TUNAP Wolfratshausen Donates 1,000 Liters of Hand Disinfectant
09/04/20
Support for the Local AWO Dementia Center
Disinfectants are currently in short supply. In order to counteract the acute supply shortage and to make a contribution against the further spread of the coronavirus, the TUNAP headquarters in Wolfratshausen donated 1,000 liters of hand disinfectant to the AWO dementia center in Wolfratshausen.
Currently High Demand for Disinfectants
The need for disinfectants is particularly high in care facilities and in the risk group of the elderly. Therefore, the donation to the AWO dementia center comes at the right time, as Gabi Strauhal, Head of "Quality & Ethics" at the AWO Dementia Center confirms:
"We are extremely grateful for any support, because it is currently very difficult to get disinfectants at all. We need more than is currently available, and therefore we are very happy that TUNAP is supporting us now so that we can better protect our residents and our employees."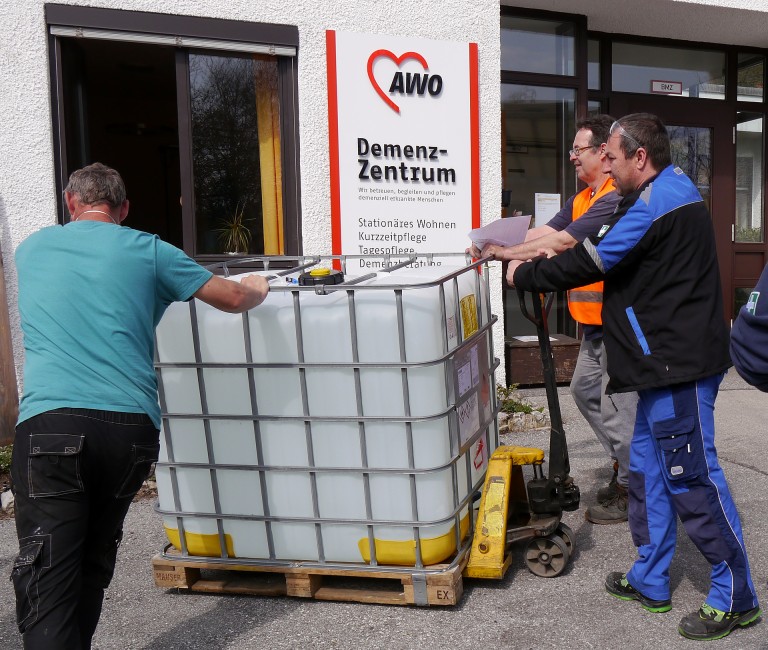 Delivery of the donation to the AWO dementia center in Wolfratshausen.
Rearrangement of Production Capacities to Disinfectants
The TUNAP plant in Wolfratshausen switched its production to disinfectants around two weeks ago and has already made 1,000 liters of disinfectant available to the disaster control of the Bad Tölz-Wolfratshausen district.
"We are very pleased to be able to help the AWO dementia center Wolfratshausen with urgently needed disinfectants and to make a small contribution in this difficult time. As a regionally rooted company, we have a social responsibility and we take this very seriously", says Maximilian Buchner, CEO and co-owner of TUNAP.