Disinfectants for hands, skin & surfaces
Disinfection and cleaning solutions for all areas of application
Cleaning and disinfection play an ever-increasing role in our everyday lives – and not just since pandemics like the coronavirus (COVID-19) seized the general public's attention. The issue comes into play during regular hand washing as well as during the cleaning and disinfecting of surfaces, instruments, machinery and industrial systems. No matter whether you have a cleaning or disinfecting need at home or in a public area: The shared goal of all these measures is always to effectively protect our health and our well-being.
Disinfection solutions from the technology market leader
What is disinfection? It refers to the use of a disinfectant to eliminate, inactivate or kill pathogens such as microorganisms, bacteria, viruses or fungi. Different disinfectants have different uses, the most common being surface and hand disinfection.
TUNAP is the technology market leader in the areas of cleaning, protection and lubrication. It is a single-source developer, producer and seller of cleaning and disinfecting solutions: for the widest range of sectors, industries and usage areas. In the section below, we will introduce you to our wide range of high-impact disinfecting agents that effectively fight (corona) viruses, germs, bacteria and fungi.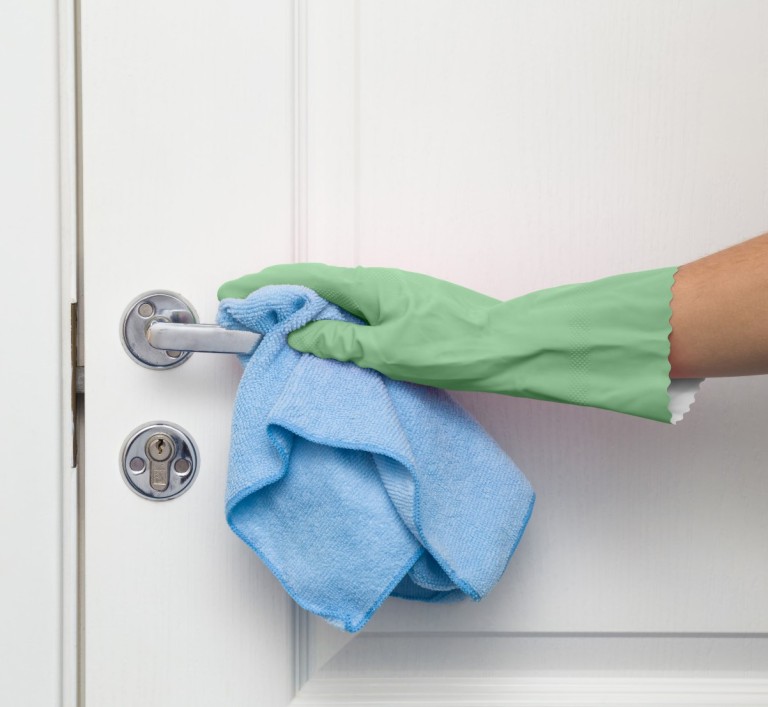 Why surface disinfection?
Surface disinfection involves the systematic disinfection of inanimate surfaces and objects.
Micro-organisms like viruses, bacteria and fungi are frequently found on surfaces that are used by large numbers of people, including restrooms, fittings, door handles and knobs, handrails, work surfaces and floors. Pathogens can survive on surfaces for months on end and represent a potential source of infection to human beings. This is why surface disinfection is an effective precautionary way to prevent disease transmission to people. It is a practice that experts call infection prophylaxis.
Hygienic regulations require regular surface disinfection for the industrial production of food and in a number of commercial areas.
Surface disinfection against enveloped viruses such as Corona SARS-CoV-2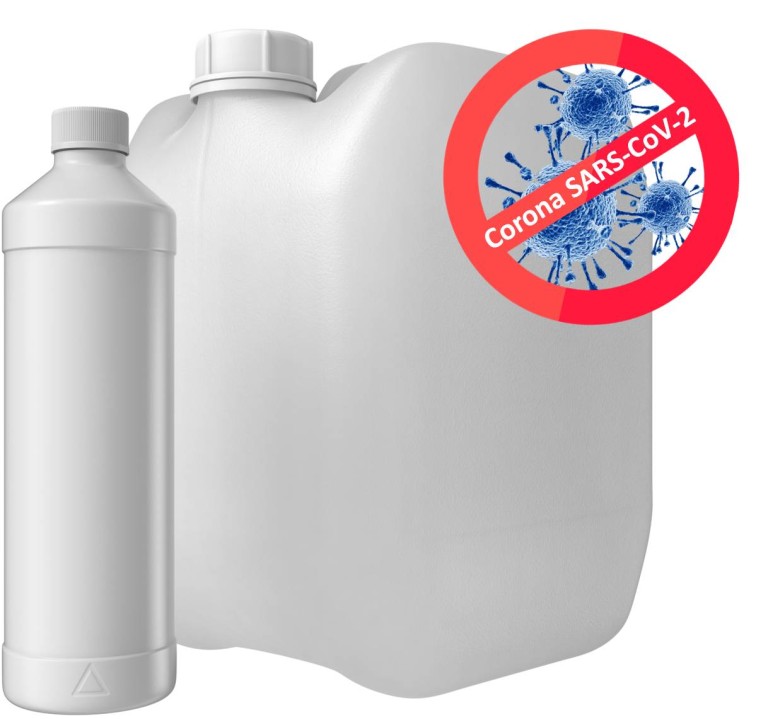 Surface disinfection cleaning agent
For the wide-scale disinfection and cleaning of all washable objects and surfaces. This formula disinfects, cleans and protects glass, plastic and metal surfaces. The surface disinfectant has been tested in the EUROVIR® hygiene laboratory, which tests disinfectants and procedures for their viral effectiveness.
Validated effectiveness against the coronavirus SARS-CoV-2
Effectiveness against other enveloped viruses (including bovine viral diarrhoea (BVD) and vaccinia)
Disinfecting, cleaning and protection capability
Effective after 2 minutes
Good material compatibility
Container sizes: 1 litre and 5 litres
Application:
Fill a suitable application device or spraying unit with the desired amount of the surface disinfecting agent. Apply the undiluted cleaning agent to the surface, wipe and let stand for at least 5 minutes. Make sure that the entire area is covered. Keep the surface wet throughout the entire application time and apply no more than 50 ml/m2.
No further wiping is necessary after the completed evaporation time (about 15 minutes). The cleaning agent provides effective protection against enveloped viruses (like the coronavirus) after 2 minutes and against bacteria after 5 minutes.
Effective protection against enveloped viruses like corona SARS-CoV-2
The surface disinfectant was tested in the EUROVIR® hygiene laboratory, which checks disinfectants and processes for their virus effectiveness.The agent has been validated as "limited virucidal", that is, it is effective against enveloped viruses like bovine viral diarrhoea (BVD), vaccinia and other viruses that fall into this category, including SARS-CoV-2.
The Robert Koch Institute (RKI) has not ruled out the possibility that respiratory secretions could be transmitted through the contamination of objects and surfaces – this represents an increased risk of infection that could result from inadequate protection and hygienic practises. (Source: RKI)
The German Health Ministry recommends that surfaces, objects and restroom facilities should be regularly cleaned. (Source: German Health Ministry)
To remove SARS-CoV-2, the novel coronavirus, from glass, plastic and metal surfaces, thorough cleaning and, ideally, disinfection of the surfaces and objects should be performed.
How should surfaces be disinfected?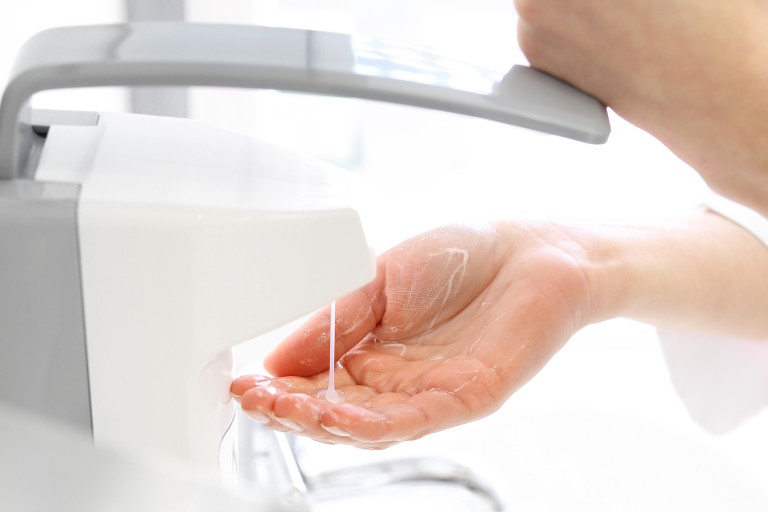 Why hand sanitising?
Hand sanitising is the practise of rubbing the disinfecting agent into the hands for the purpose of killing micro-organisms like viruses, bacteria, germs and fungi.
Shaking hands to greet people, touching a door handle or pulling out our wallets: We come in contact with micro-organisms each day whether we want to or not. We also obtain them and transmit them every time we touch something. About 10 million pathogenic micro-organisms are found on our hands alone. Pathogens are transmitted through hand touching in more than 80% of cases, that is through smear infection. This is why breaking the chain of infection on the hands is so highly effective and offers such tremendous improvement potential for hygiene management.
Hand sanitising protects our health in all areas of our lives – not just in medical facilities like surgeries and hospitals.
The Sinner's Circle: The Four Factors for Efficient Cleaning
The Sinner's Circle describes the factors that impact the quality of cleaning. The four factors are the cleaning agent, the mechanics, the time and the temperature. The four parameters can be used to different degrees. If you increase the intensity of one factor, you will reduce the level of the remaining three. For instance, mechanical action will be reduced if you extend the application time of a cleaning solution.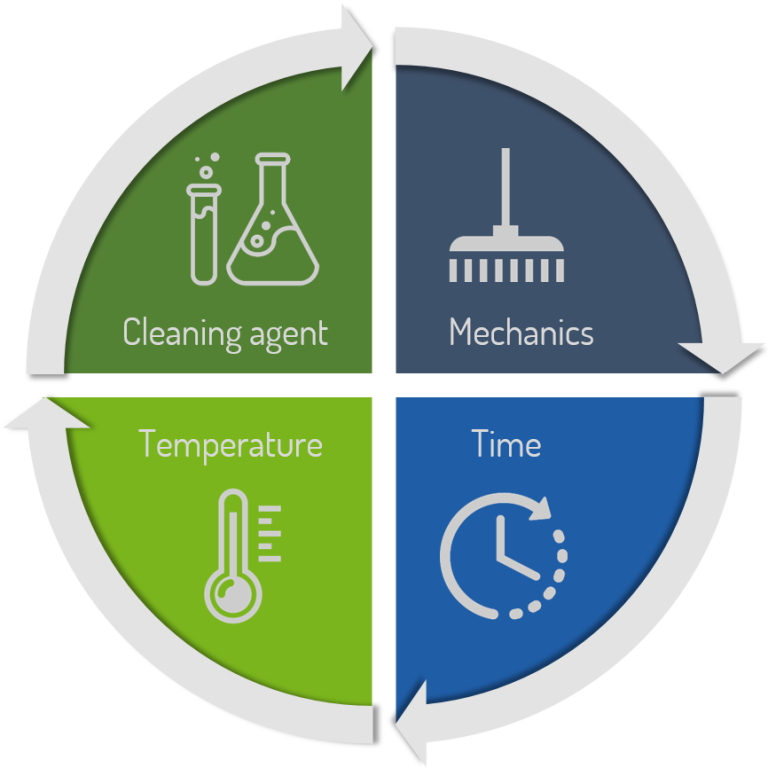 (Disinfection) cleaning agent
The disinfecting or cleaning agent initiates the cleaning process, removes foreign material and holds it in suspension until it can be transported away. The chemical effect of the disinfecting agent will kill micro-organisms on surfaces.
Mechanics
Mechanical action describes the effect that this process has on surfaces through the use of cleaning cloths, brushes, sponges or liquid or gas pressure. The mechanic force reduces the application time of the cleaning agent and simultaneously shortens the cleaning process.
Time
Application time is the period between the application of a disinfecting agent and the removal of the foreign material. It is a critical factor in surface disinfection. The disinfecting agent has to be allowed to stand on a surface the necessary period of time in order to effectively kill or inactivate micro-organisms.
Temperature
The cleaning temperature also affects the cleaning result. As a rule, foreign material comes loose more easily through the application of heat. But heat has its own set of limitations (e.g. burn threat, damage to surfaces, heavy steam production of cleaning solutions). The TUNAP products described here are applied at ambient temperatures.
Availabilities, delivery times and notes on placing on the market
Our availability and delivery times
Please note that applicators (e.g. pump spraying units) are currently not offered due to market shortages of these products. We are working to find an alternative as fast as we can.
The availability of our disinfecting agents depends heavily on the availability of the necessary raw and packaging materials. We have been unable to obtain reliable commitments about delivery times from our upstream suppliers.
Exemption for disinfecting agents
As a result of the coronavirus pandemic, national exemptions have been issued in some instances for the production and introduction to the market of (hand) disinfecting agents. The website of the European Chemicals Agency (ECHA) contains detailed contact information for the government agencies in EU member states that are responsible for the issue.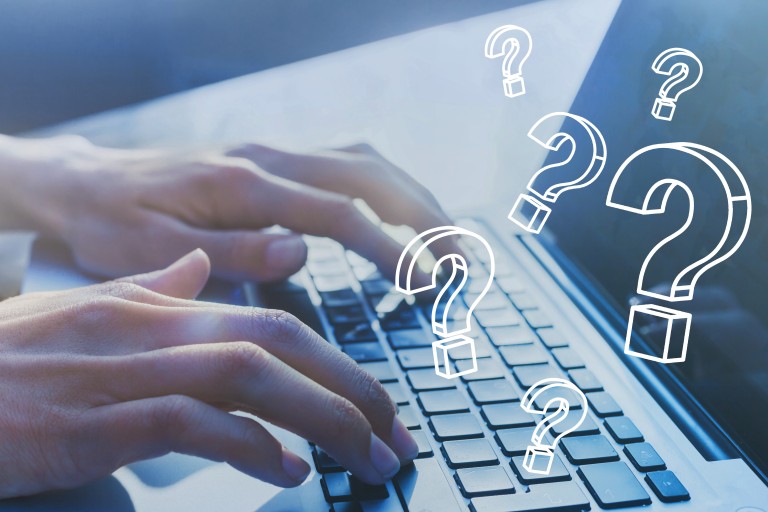 Do you have a question about disinfection and cleaning?
If so, you can reach us by using our contact form:
You will find other helpful information on the following sites:
The German Health Ministry
The German Federal Centre for Health Education (BZgA)