For the 54th Time: "Car Fair Belgrade"
TUNAP was featured in Serb TV news in March 2019. How did it happen? The annual "Car Fair Belgrade" mobility trade fair, the most important trade fair on mobility and automotive in the Balkan region, was held for the 54th time from the 22nd to the 31st of March 2019 in Belgrade.
TUNAP's exhibition booth with our partner Technolub.
Second Time for TUNAP
It was the second time we had attended this event. In 2018 our Serb distributor - Technolub - presented our brand to this market, then a new one for us.
2019 was a significant milestone for our new distributor as the fair opens its doors to all comers throughout the Balkans every two years, as it did in 2019. Visitors from Croatia, Bosnia, Albania, Kosovo and North Macedonia joined locals to get a glimpse of innovations in the automobile industry. To coin a phrase, TUNAP was in the right place at the right time.
Our particle filter cleaning products were of particular interest. Many motor vehicles with high mileages in Central Europe enjoy a rejuvenation in the Balkans. Engines and exhaust systems with high levels of contamination are hence the norm.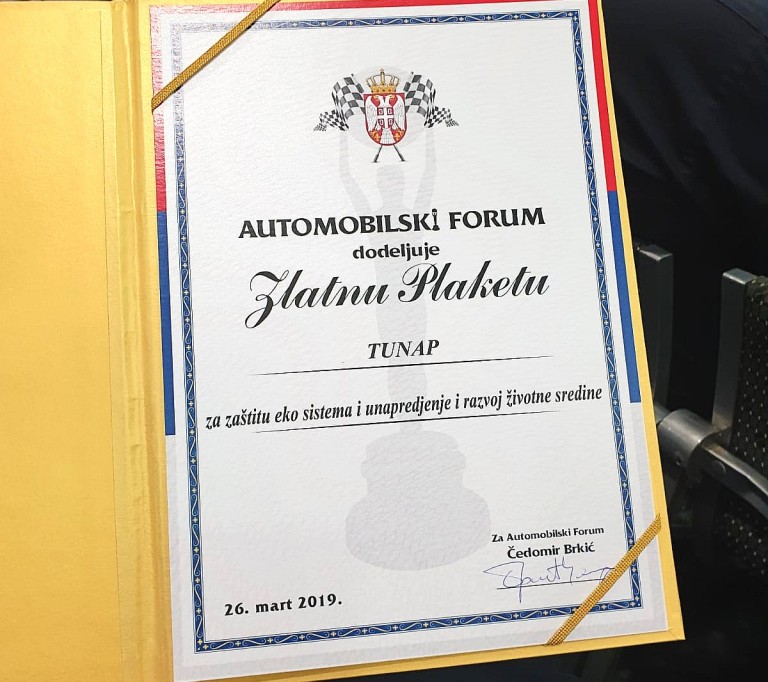 'Gold medal' for outstanding environmental standards.
TV Appearance and Award
It is not only our technical products that attract attention. The environment-friendly thinking our products demonstrate proved of great interest too. The Automobilski Forum organisation awards prizes for brands that have great added value.
This year the Forum awarded TUNAP the gold medal for outstanding environmental standards. Media representatives are of course a part of any such ceremony and broadcast such successes to the wider world. TUNAP thus appeared on Serb TV news as a prize winner.