TUNAP Sports: Assembly Paste for the Wonder Fiber Carbon
1986: Greg LeMond triggers carbon boom
Carbon components have been in use on bicycles for over 30 years. Some bicycle manufacturers were experimenting with carbon as early as the 1970s, but while the strength-to-weight ratio was ideal for bicycle frames in theory, it was still difficult to use in practice.
The French manufacturer Look succeeded in series production of a carbon frame for the first time with the KG86 model. When Greg LeMond won the Tour de France with it in 1986, it triggered a real boom. At the end of the 1980s, carbon was also used more and more frequently in the then freshly blossoming MTB scene. Today, carbon is one of the most widely used materials for frames and components.
What makes the fiber so attractive for cycling? The material consists of carbon reinforced plastic and is as light as the mixture of carbon fiber and resin with the same rigidity. Additional plus points are extremely good self-damping and the almost limitless design freedom for the designers.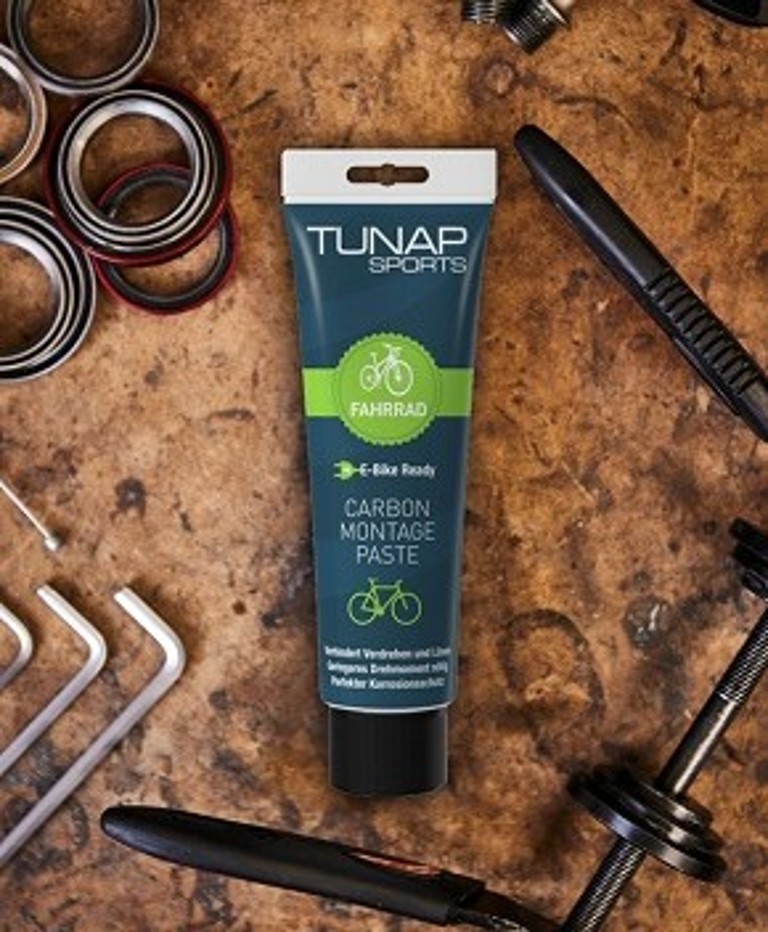 Risk: damaged carbon
In addition to the many advantages, the wonder fiber carbon also has disadvantages: Among other things, the components made of carbon fiber can be easily damaged - and damaged carbon can tear completely suddenly. Special care is therefore extremely important.
With the TS245, TUNAP Sports has now brought a special carbon assembly paste onto the market.
Lightweight components such as seat post, stem, handlebar and seat attachment can be installed optimally with it. The carbon paste offers perfect protection against corrosion when combined with metal screw connections and prevents twisting and loosening of individual components.
TUNAP, always state-of-the-art
As with all of its solutions, TUNAP relies on its many years of know-how and state-of-the-art technology for the TS245 carbon assembly paste. That is why high-quality special particles are used. The assembly paste increases the friction and enables a twist-proof assembly of the carbon parts with each other, so the specified torques can be adhered to.
The paste also sets the tone when it comes to sustainability: It does not contain any microplastics, allergenic fragrances or harmful solvents. In addition, it is free of n-hexane and aromatics - true to our claim to always deliver the best quality and at the same time to meet the highest standards in terms of health and environmental compatibility.