Mobility into Old Age
- thanks to the TUNGREASE CP Series
Lifetime greases on calcium sulfonate complex thickener technology
Whether it is used in everyday life, in industrial applications or in extreme situations: For the longest possible service life, all installed components must run like clockwork. But what exactly is meant by lifetime lubrication? It is the one-time equipping of a friction point with lubricant, which is then no longer renewed or exchanged until the end of the service life of the component or the machine.
For applications that require lifetime lubrication, the lubricants must meet special requirements. For example, they have to function at very different temperatures and under increased loads and have to guarantee lubrication over the entire life cycle.
TUNAP relies on fully synthetic base oils in combination with calcium sulfonate complex thickener technology. The interaction of the two components enables low coefficients of friction in tribological contact. This in turn reduces wear and tear and extends service life enormously.
Synthetic CaSuX greases from TUNAP: Always the right solution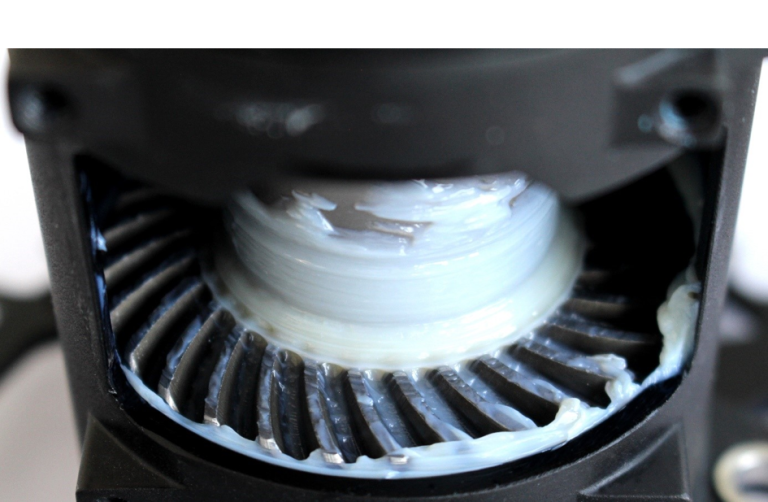 Gear lubrication of an e-bike drive.
Regardless of whether the focus is on longer machine service life, higher speeds, noise reduction or optimized temperature and frictional torque resistance - the TUNGREASE CP series has the right solution for every requirement.
TUNGREASE also stands out positively from conventional mineral oil-based lubricating greases in terms of sustainability: Since significantly less grease is used in comparison, less used grease has to be disposed of in the end. Our high-performance lubricants have further advantages: They generate a long service life and can extend the service life of lubricated components, which in turn is noticeable in significantly longer maintenance intervals: Less waste, lower energy consumption and higher work safety are the positive side effects.
This particular level of efficiency, reliability and longevity is demonstrated by our lubricants, e.g. on e-bike drives.
Energy savings through a reduction in the coefficient of friction
Apart from recuperation, the main factor for optimizing energy efficiency is the reduction in friction. There is potential for friction reduction in lubrication technology, especially low-viscosity base oils and / or lubricants with a high viscosity index - which interact with the surface topography and the suitable grease thickener structure.
Since it is ultimately a mechanically operating drive system, the electric drive train also requires specific lubricants for rolling bearings and gears. This is where the TUNGREASE CP-2/25 can develop its full effect. Especially in the field of e-mobility, every energy saving through reduced friction is a blessing because it enables more range with the same battery capacity.