Optimal lubrication
- with TUNAP oil products
Nothing works in the engine without oil ...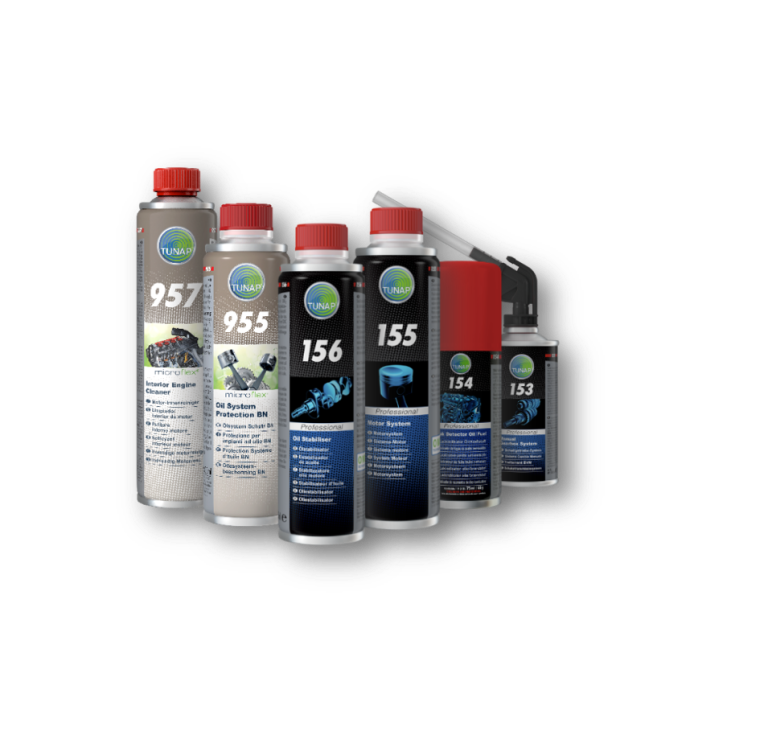 ... but ideally everything runs like clockwork: around five liters of oil in a car ensure that the pistons run smoothly - ensuring that all moving parts slide smoothly past each other and work as long as possible. In a normal four-stroke engine, the oil supply usually runs according to a simple principle: The vehicle's lubricant supply is located in the oil pan below the crankshaft. A pump sucks in the oil and directs it to the lubrication points. From there it drips back into the oil pan and the cycle starts all over again.
However, over time, oil sludge and dirt particles that remain in the engine after the used oil has been drained off the new engine oil. The consequences are manifold and range from increased wear and friction loss, to an increase in oil and fuel consumption, to resin build-up on the piston rings.
These and other problems can be avoided with a little help from TUNAP's oil products. Our range of active ingredients for cleaning, care and protection of the oil system is extensive.
Cleaning, care and protection of the oil system
For example the microflex® 957 Engine Interior Cleaner: The TÜV-tested, solvent-free cleaner removes oil sludge deposits from the oil system. This protects the new engine oil from old dirt and does not impair its effectiveness.
The microflex® 955 Oil System Protection BN, on the other hand, has a different focus: It restores the surface of components in the engine and thus compensates for increasing wear and tear. In addition, the formulation reduces noise, reduces fuel consumption and improves the anti-corrosion performance of the engine oil.
The Professional 153 Manual Gearbox System is our long-term protection for manual transmission oils. The formulation based on our OMC2 technology delays oil aging, extends the service life of the gear unit and ensures smooth, dampened operation.
The 2-in-1 combination product Professional 154 Leak Detector Oil/Fuel has a completely different task: With its help, leaks in the oil and fuel tank can be easily detected. These can then be identified thanks to the indicator liquid with UV color particles and a UV lamp.
The Professional 155 Motor System is a refill concentrate and is also based on OMC2 technology. It protects and cleans the entire oil circuit, loosens resinous piston rings and ensures full engine oil performance over the entire inspection interval. In addition, it supplements the partially used engine oil active ingredients up to full fresh oil output and compensates for smaller oil deficits.
The Professional 156 Oil Stabilizer minimizes friction, wear and oil consumption and ensures the engine oil viscosity class until the oil change. The OMC2 technology ensures that the lubricating film is stabilized even under extreme loads.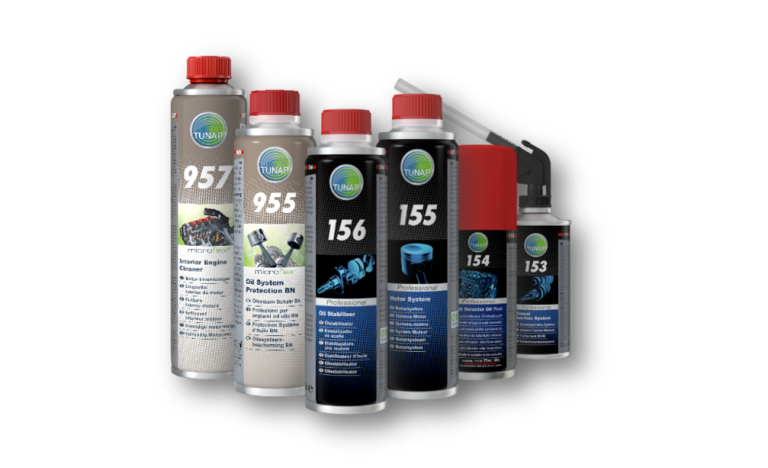 All oil products at a glance
Are you looking for more information about TUNAP oil products? In the following catalog you will find our entire range for the oil system: