Lubricants for the Food Industry
Lubricants for the Food and Beverage Industry
As a lubricant expert for the food, beverage and feed industry, TUNAP offers you high-performance specialty lubricants with NSF-H1 registration.
Our high-performance, food-grade portfolio of release agents, lubricants, cleaners and surface protection products was specially developed for the food and beverage industry. In addition to the technical requirements, our focus is on hygiene, product safety and certification.
What are H1 Lubricants and where they are used?
H1 lubricants are food grade lubricants. They are used where there is occasional or technically unavoidable contact between the lubricant and food products.
The requirements for lubricants for the food and beverage industry are as varied as the food itself. Production is sometimes carried out at extremely high temperatures of over 200° C or extremely low temperatures of down to -40° C. In order to protect metal or plastic surfaces, the lubricants used must, in addition to temperature resistance, often be adhesive, acid and alkali-resistant as well as resistant to water and surfactants.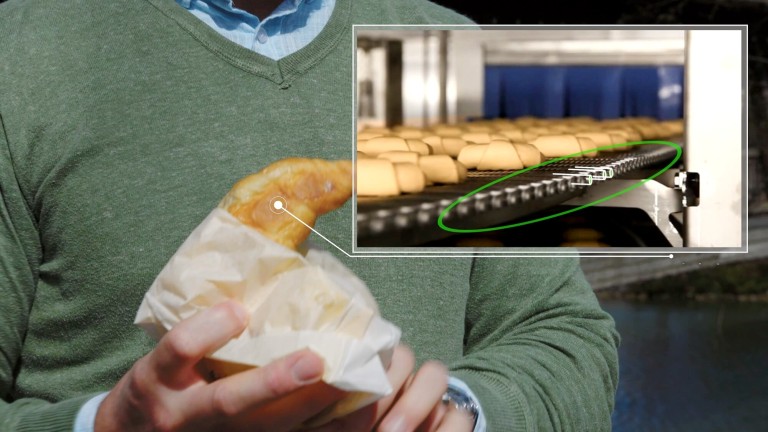 Use of H1 lubricants for conveyor belts in food production.
Food Safety for Consumers
Since lubricants in the food and beverage industry can come into contact with food products, they must be food-compatible and particularly safe for consumers. They need to
comply with food law regulations,
be physiologically perfect,
be odorless, colorless and tasteless and
they must not offer any habitat to microorganisms.
Food Grade and Certifications of our Lubricants
TUNAP products used in the food and beverage industry meet the requirements of
Kosher (suitable, pure) according to Jewish dietary laws) and
Halāl (marking for products that are halāl (permitted) under Islamic law).
In addition, our products are registered by the NSF (National Sanitation Foundation). The NSF is a US authority for testing the food compatibility of lubricants. As a lubricant manufacturer, we are obliged to submit all components of our H1 lubricant formulations to the NSF for testing. The relevant NSF certified lubricants in food quality can be found on the website nsfwhitebook.org.
With the internationally recognized ISO 21469 standard for the food industry, TUNAP meets the strictest hygiene requirements for H1 lubricants and the entire production process, including manufacture, handling, packaging and storage.
The Food and Drug Administration (FDA), also based in the US, maintains a list of base oils and additives that may occasionally come into direct contact with food in low concentrations. The FDA has set 10 mg of lubricant per kilogram of food as a limit value. This amount also prevents contamination by MOSH / MOAH due to the lubricant used.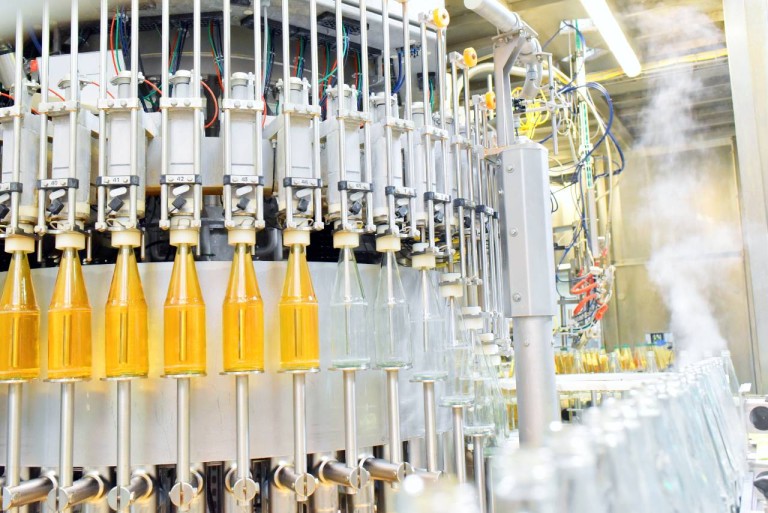 H1 lubricants in bottling.
Technical Requirements for H1 Lubricants
In addition to the requirements for hygiene, product safety and certification, there are special requirements in the food industry with regard to the lubrication of
plants.
conveyor belts,
roller and plain bearings,
transmissions,
oil circulation systems,
chains,
mixers,
pumps,
tanks and
pipelines
to name a few.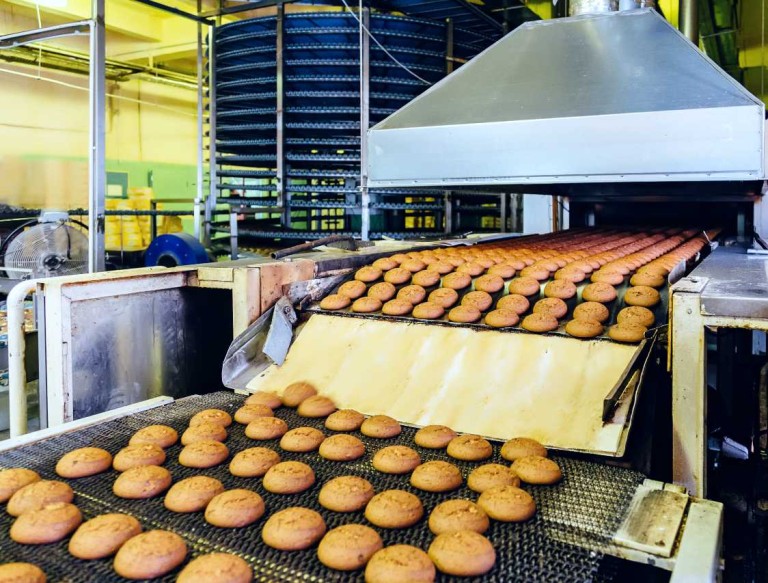 High temperature lubricants in food production.
As Efficient as Conventional Lubricants
Machines that are used in food processing companies face challenges in terms of tribology and lubrication that are comparable to those of non-food processing companies. H1 lubricants must be just as efficient as conventional lubricants and develop their full effect even under extreme conditions in food processing. You need to
ensure similar protection of the inner surfaces to control friction, wear, corrosion, heat and deposits,
offer good pumpability, oxidation stability, hydrolysis stability and thermal stability in various areas of application and
in contact with food, certain process chemicals, water and bacteria - especially in the area of food and drug production - do not show any loss of performance.
Advantages of our H1 lubricant solutions
By using our H1 lubricants, you increase food safety for consumers and you benefit from lower downtimes and maintenance intervals for your systems and machines - which in turn saves you time and money.
H1 Lubricants: Mineral or Synthetic Base
H1 registered lubricant base materials can be either mineral or synthetic:
Petroleum based lubricants: Mineral oils used in H1 food grade lubricants are either technical grade white mineral oils or USP grade white mineral oils. They are highly refined, colorless, tasteless, odorless and non-staining. USP mineral oils are the most highly refined of all white mineral oils.
Synthetic lubricants: Synthetic H1 lubricant bases are often polyalphaolefins (PAO). Compared to white mineral oils, they have a significantly higher oxidation stability and a wider range of operating temperatures. Other approved synthetic H1 base oils are ester oils, polyalkylene glycols (PAG), dimethylpolysiloxane (silicone) and perfluoropolyether (PFPE). Compared to the first-mentioned base oils, silicones and perflour polyethers have an even higher temperature and oxidation stability.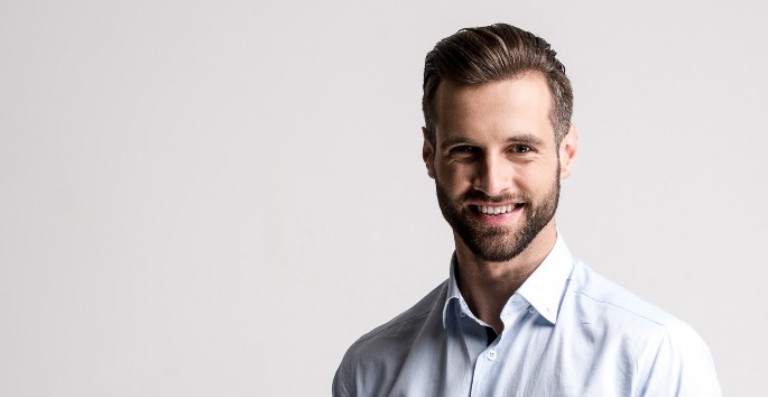 Contact Us
Do you have questions about lubricants for the food industry or do you want to contact our experts? We are happy to help.
Your personal information will be treated confidentially and not forwarded to third parties.
The data recorded in this form are e-mailed to TUNAP and electronically archived in the TUNAP database. TUNAP hereby provides the assurance that the data are not disseminated to any other companies.
The processing of the data entered into the contact form occurs exclusively based on your consent (Art. 6 Sect. 1 lit. a GDPR). You have the right to revoke at any time any consent you have already given us. To do so, all you are required to do is sent us an informal notification via e-mail. This shall be without prejudice to the lawfulness of any data collection that occurred prior to your revocation.
The information you have entered into the contact form shall remain with us until you ask us to eradicate the data, revoke your consent to the archiving of data or if the purpose for which the information is being archived no longer exists (e.g. after we have concluded our response to your inquiry). This shall be without prejudice to any mandatory legal provisions – in particular retention periods.
Additional information on data privacy particularly regarding your rights (e.g. right of access, right to rectification, etc.) can be found in our Privacy Policy.
* = Required Information